Its another year and another opportunity to bring great Comedy to Atlanta. The Ramblers Tales 2011 kicked off with a bang.
A special thank you to all the media who supported the show
this year. The show was again fortunate to be featured on the front
page of The Caribbean Star Newspaper. The editorial team at the
paper did a great write-up on the show for which we were thankful;
we also appreciated the other media sponsors and supporters who
helped with all the social noise.
As compared to prior years, we were able to intensify the level of
noise around the show. The year there was more radio, more social network and even more print coverage; great.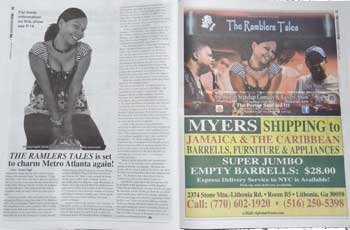 The post show feedback has been very positive. People liked the
show, they enjoyed all the comedians and no one noticed that one
of the comedians did not appear on stage on the night. We pass on
the special thank you to the Comedians who did a wonderful Job and to the cooks and severs for doing a brilliant job.
Once again the Porter Sanford staff made us look good; Thx.LOL.
See also:
The Ramblerstales Show in the News
The Ramblers Tales 2011 Atlanta Show
Atlanta Caribbean Carnival Queens 2011